It's that time of the year again. The buzz of new beginnings resonates through the air as students worldwide prepare to return to their campuses. With the excitement of reunions, the anticipation of fresh courses, and the charm of crisp autumn leaves, there's one more thing to look forward to: tomtoc's Back-to-School Fan Giveaway!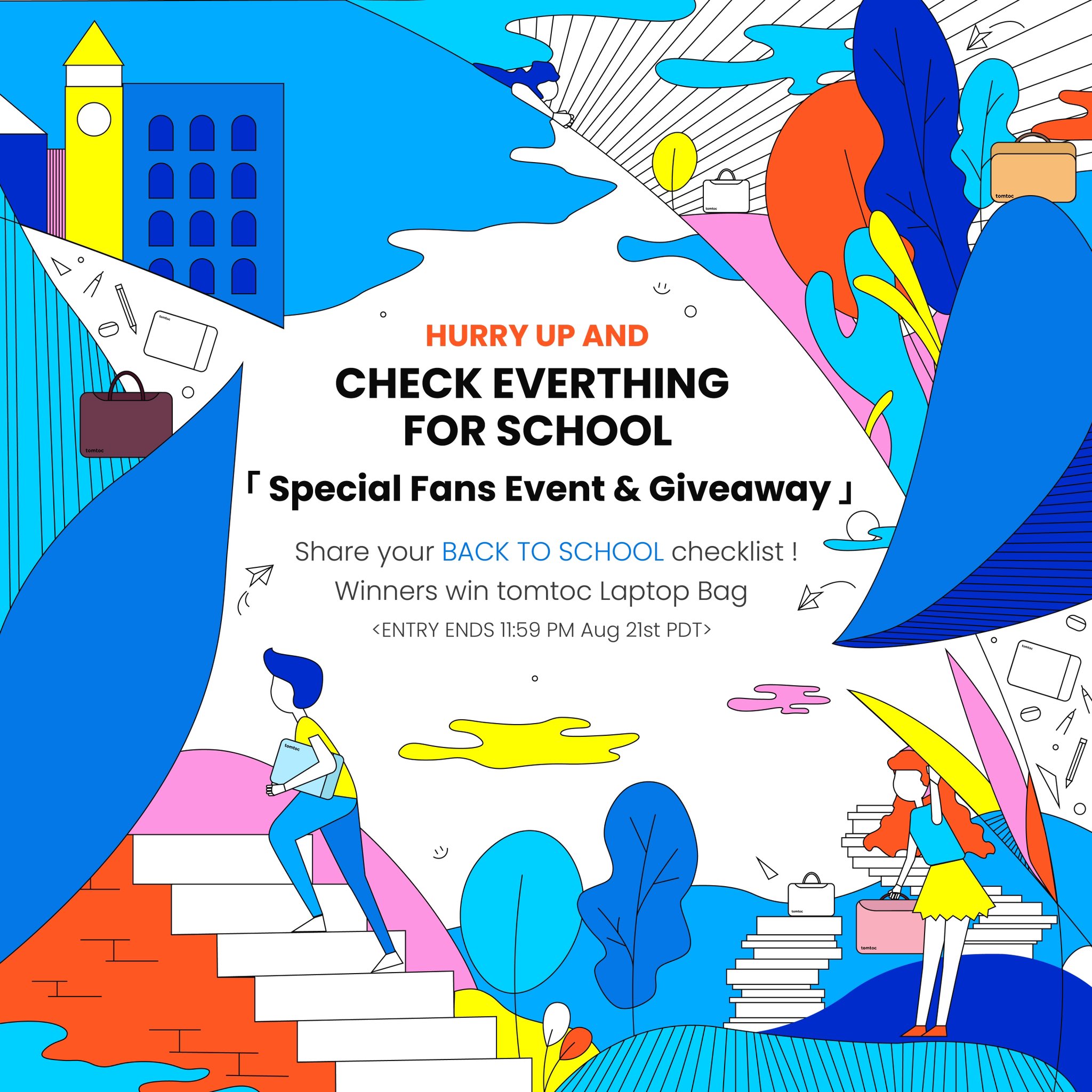 Our question to the student community was simple yet profound: *"As you prepare to return to campus, what essential items are you packing in your trusty backpack?"* And the responses we got were as diverse and intriguing as the students themselves. Today, we're thrilled to spotlight our six lucky fans and their back-to-school checklists:
**Josiah, United States:**   
"Laptop, notebook, a few pens, a power bank, charging cables, a snack, and earbuds."
**Sara, United Kingdom:**   
"Mouse Mat, Wire organiser, Laptop Case, Electric lunch box, Thermos Water Bottle, Portable Monitor, and permanent marker."
**Cody, United States:**   
"Can always use more tomtoc gears!"
**Nhi, United States:**   
"My tomtoc backpack! I love this backpack—it's so durable. I put my pens, pencils, iPad, water bottle, laptop, chargers, headphones, sticky notes, umbrella and more in there!"
**Erica, United States:**   
"Laptops, sticky notes, pens, pencils, markers, highlighters. Desk organizers, Calendars, white boards."
**Allan, United States:**   
"Portable charger, laptop case, electronics accessories case, water bottle, AirPods Pro, AirPods Max, iPad Pro, MacBook Pro, charging cables, stethoscope."
It's evident that whether it's tech-savvy accessories or timeless stationery essentials, every student has their unique blend of campus survival gear. And it's an honor for tomtoc to feature in many of these lists!
The Giveaway Might be Over,
but the Deals Aren't!
If you missed this event, fret not. Our back-to-school offers on the tomtoc official website are still blazing. Dive into unbeatable promotions with discounts up to 50% off, continuing until 11:59 PM Sep 4th PDT.
For a complete look at our offers,  click the Homecoming | 2023
Remember, every academic journey is unique, and having the right gear can make it smoother, more enjoyable, and truly unforgettable. Here's wishing every student a fabulous and successful year ahead!
Warm regards,

The tomtoc Team