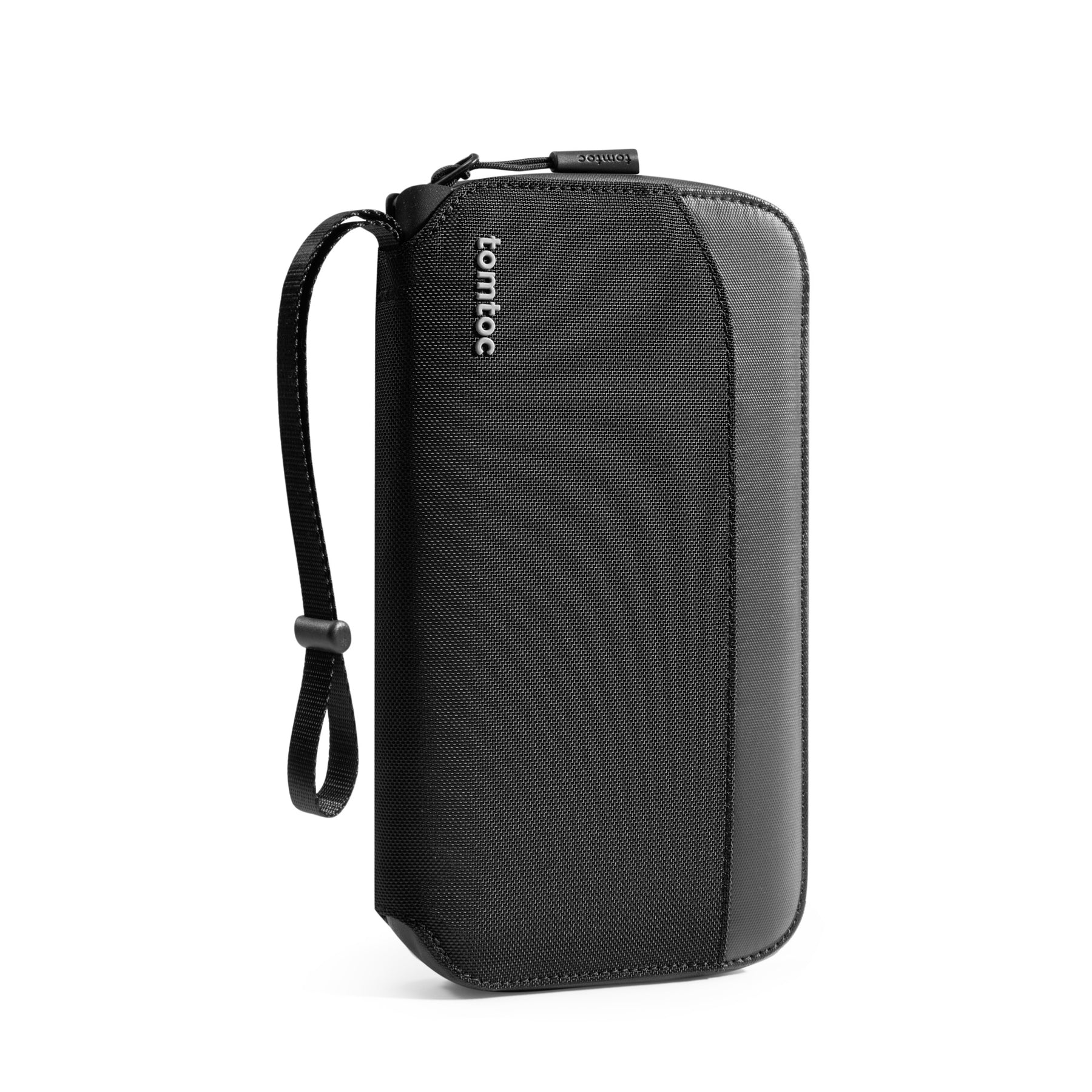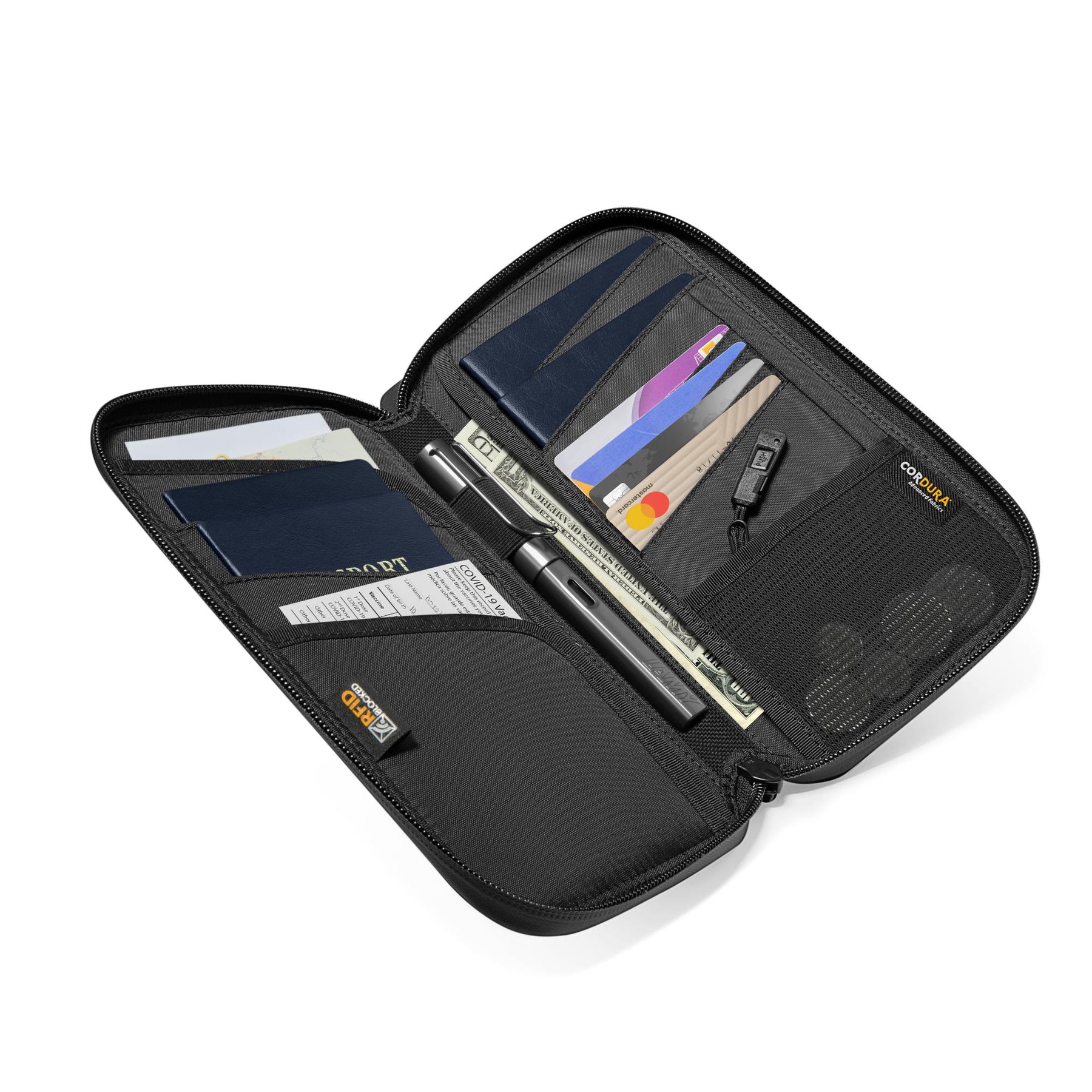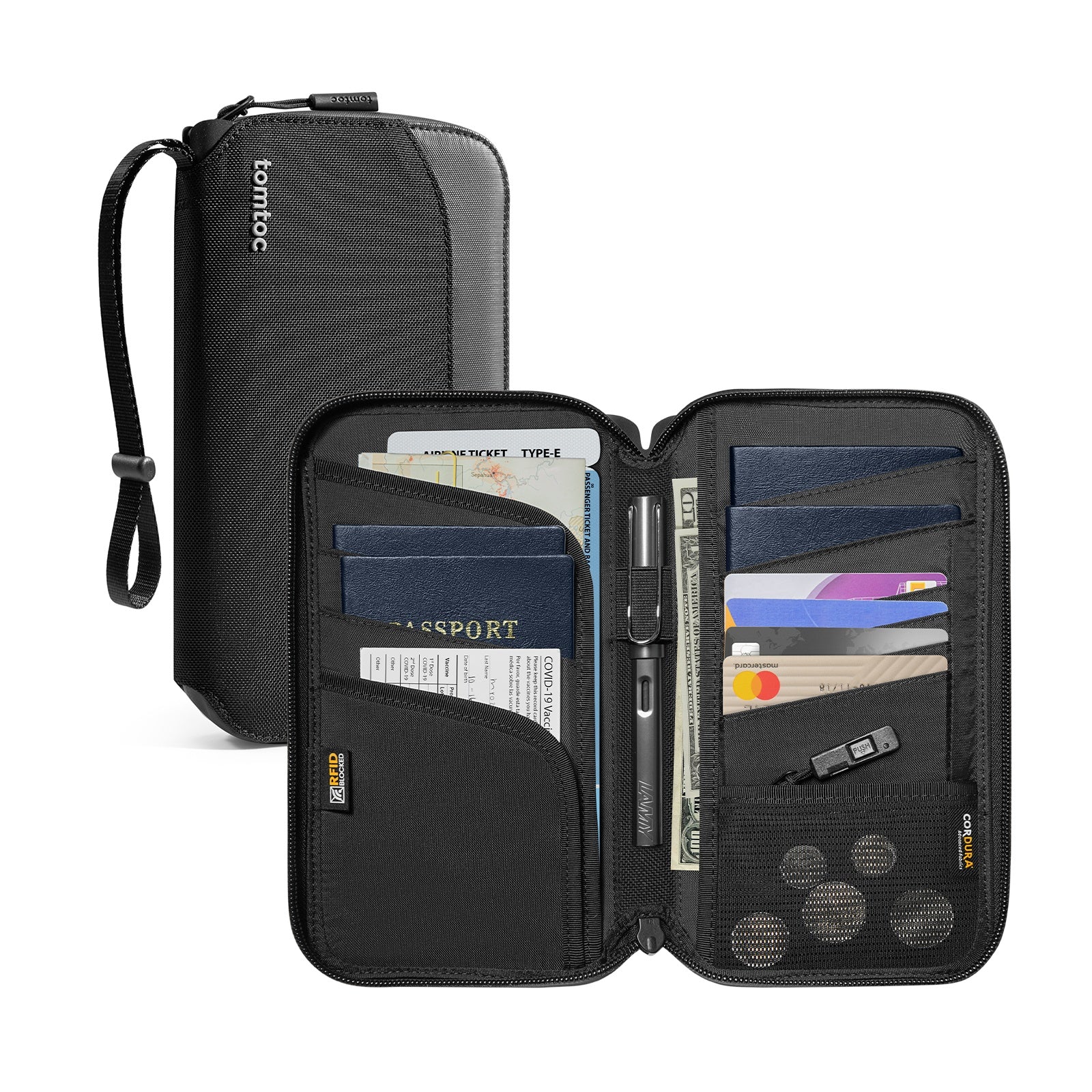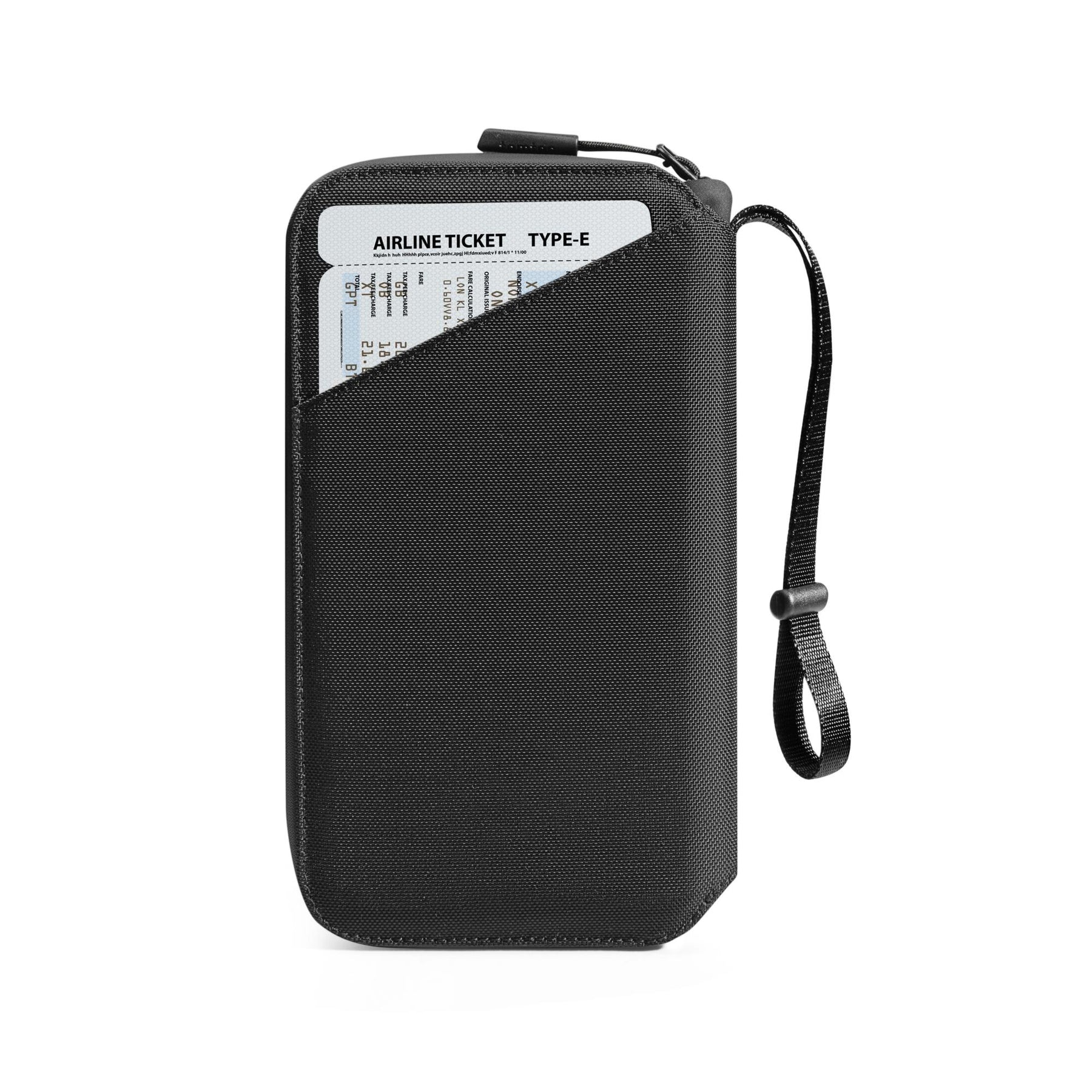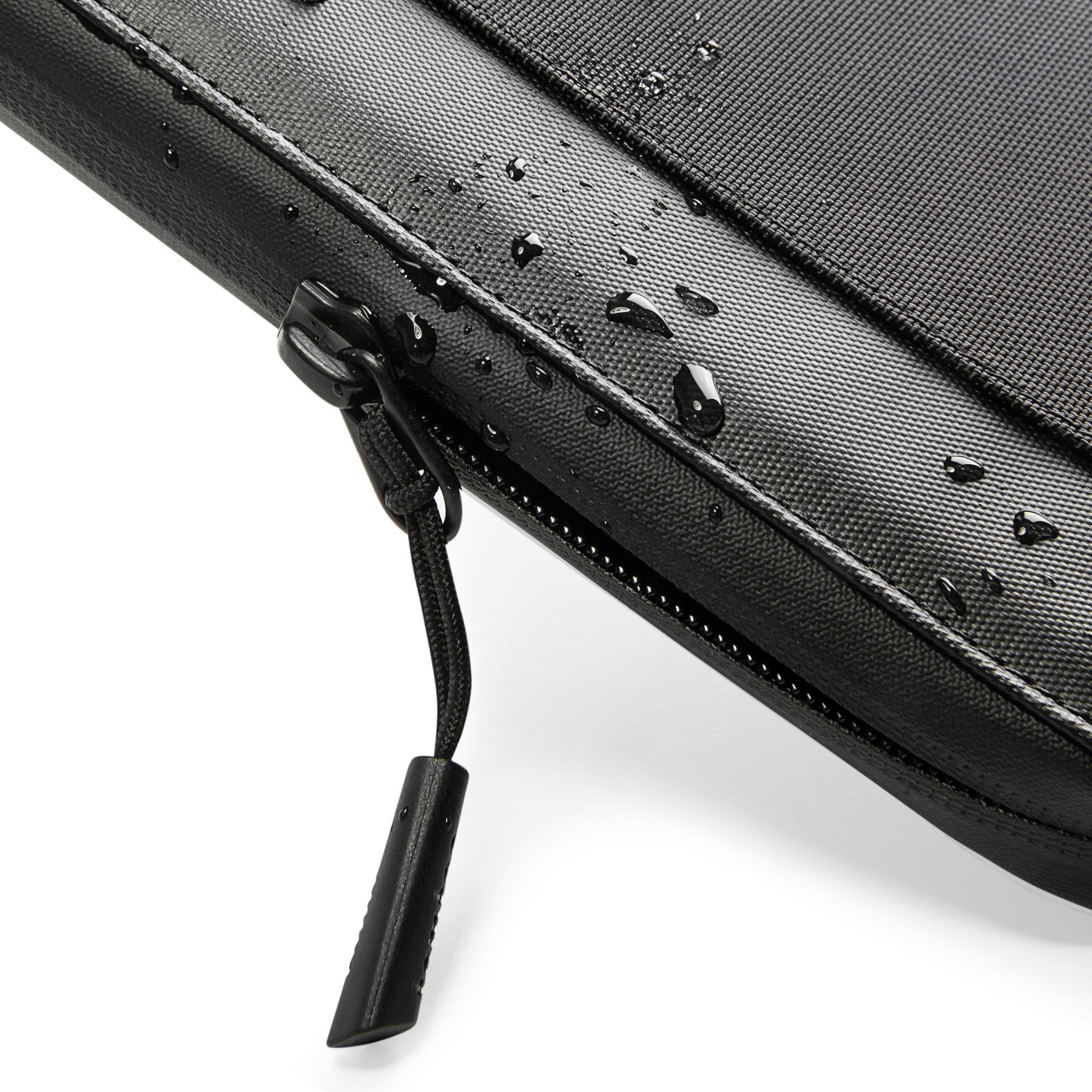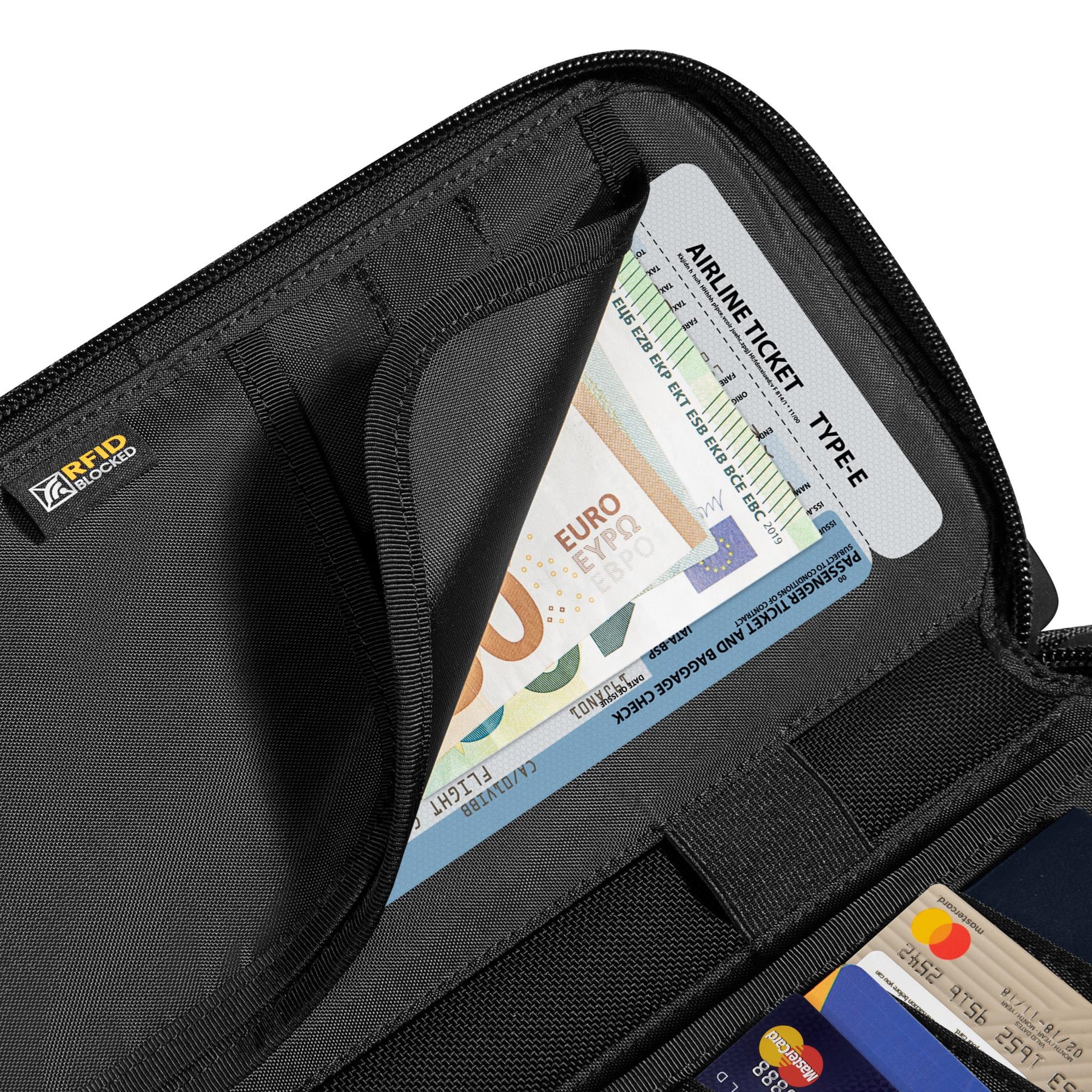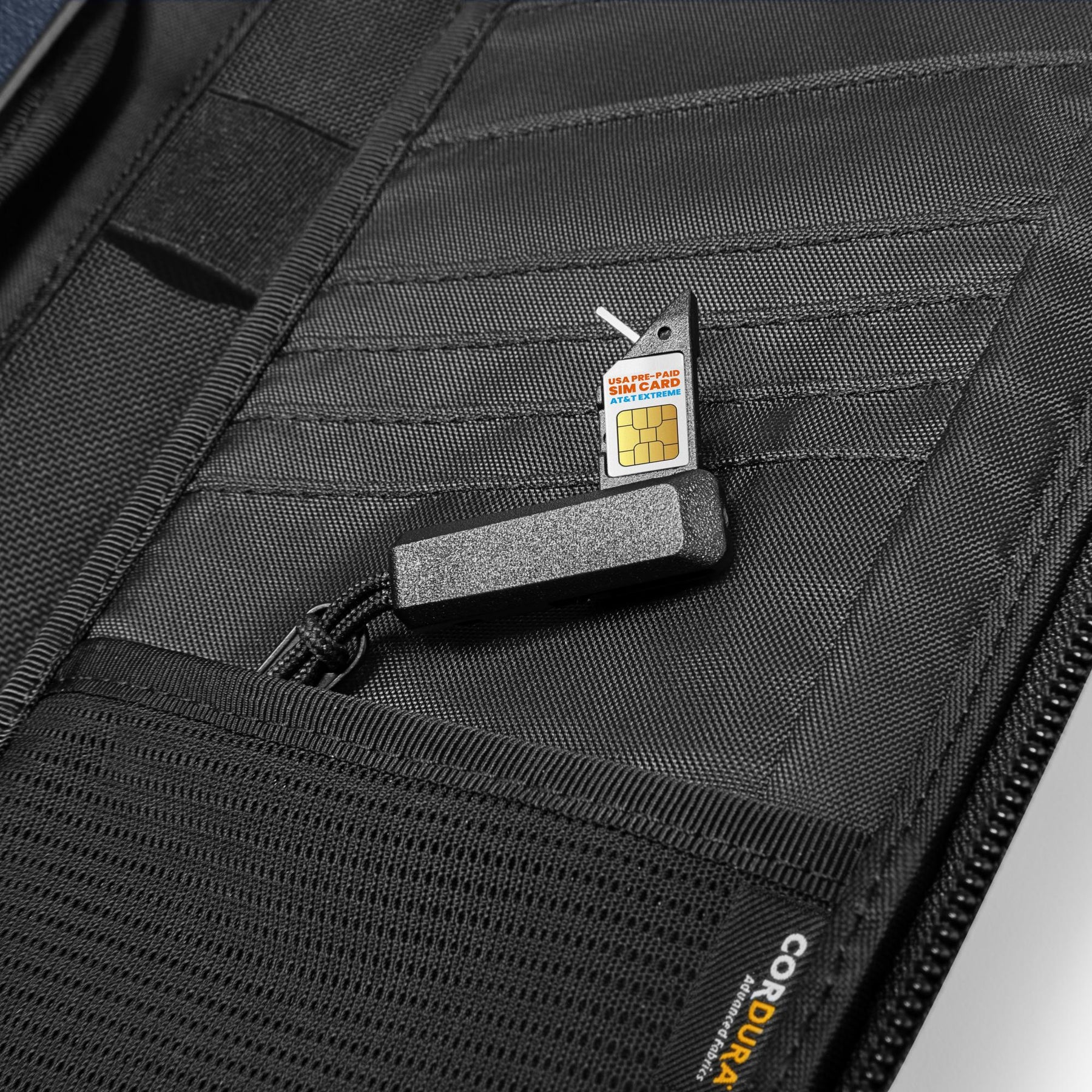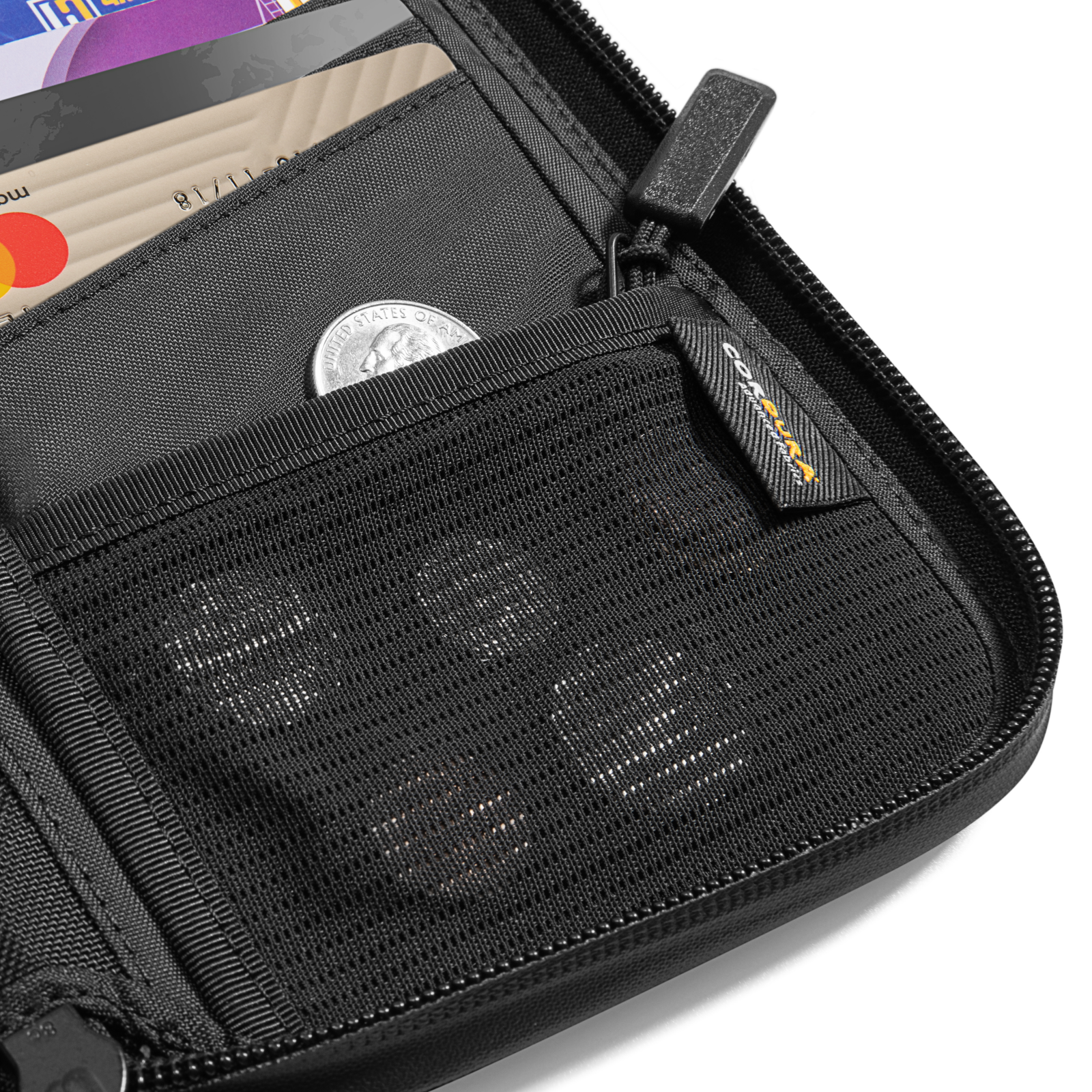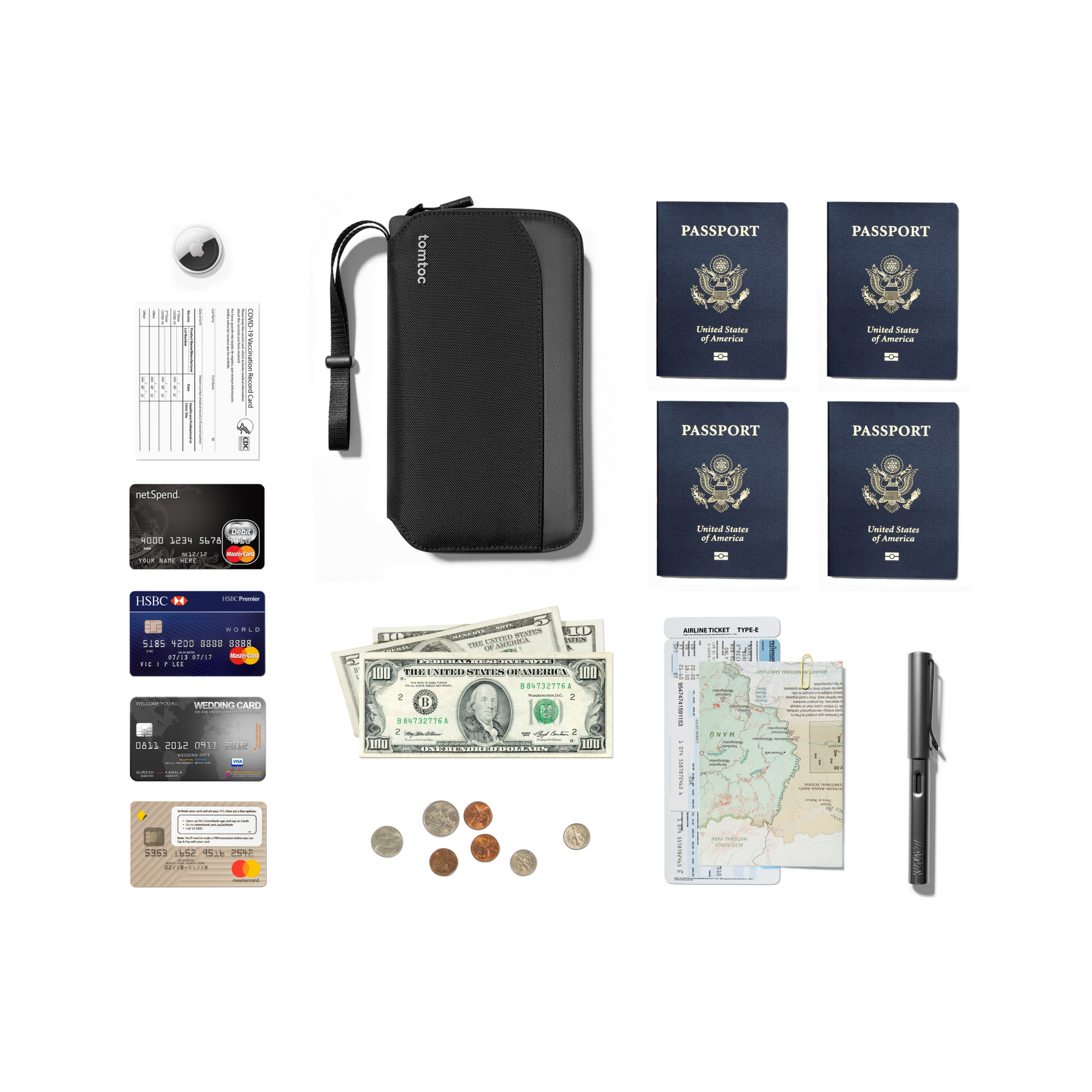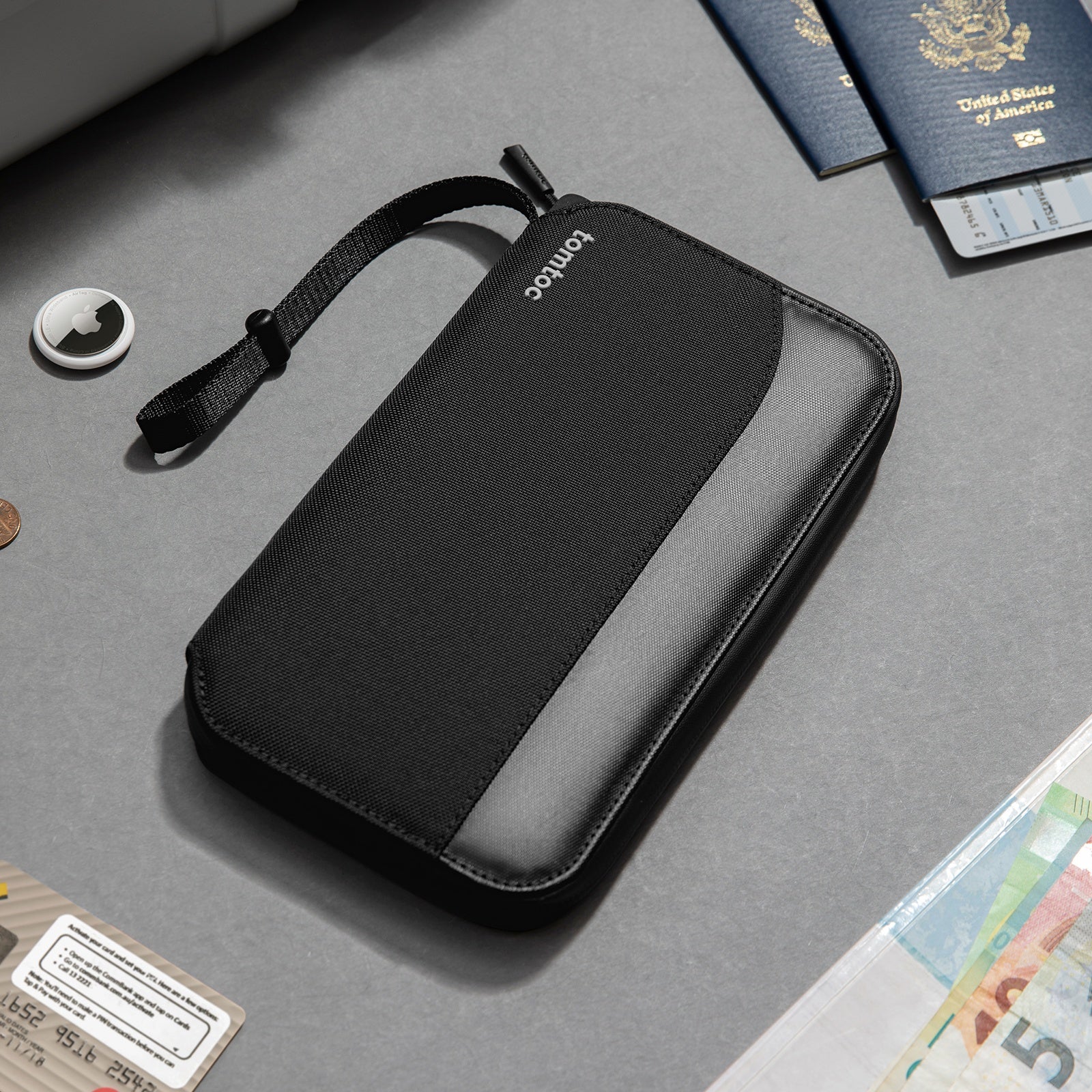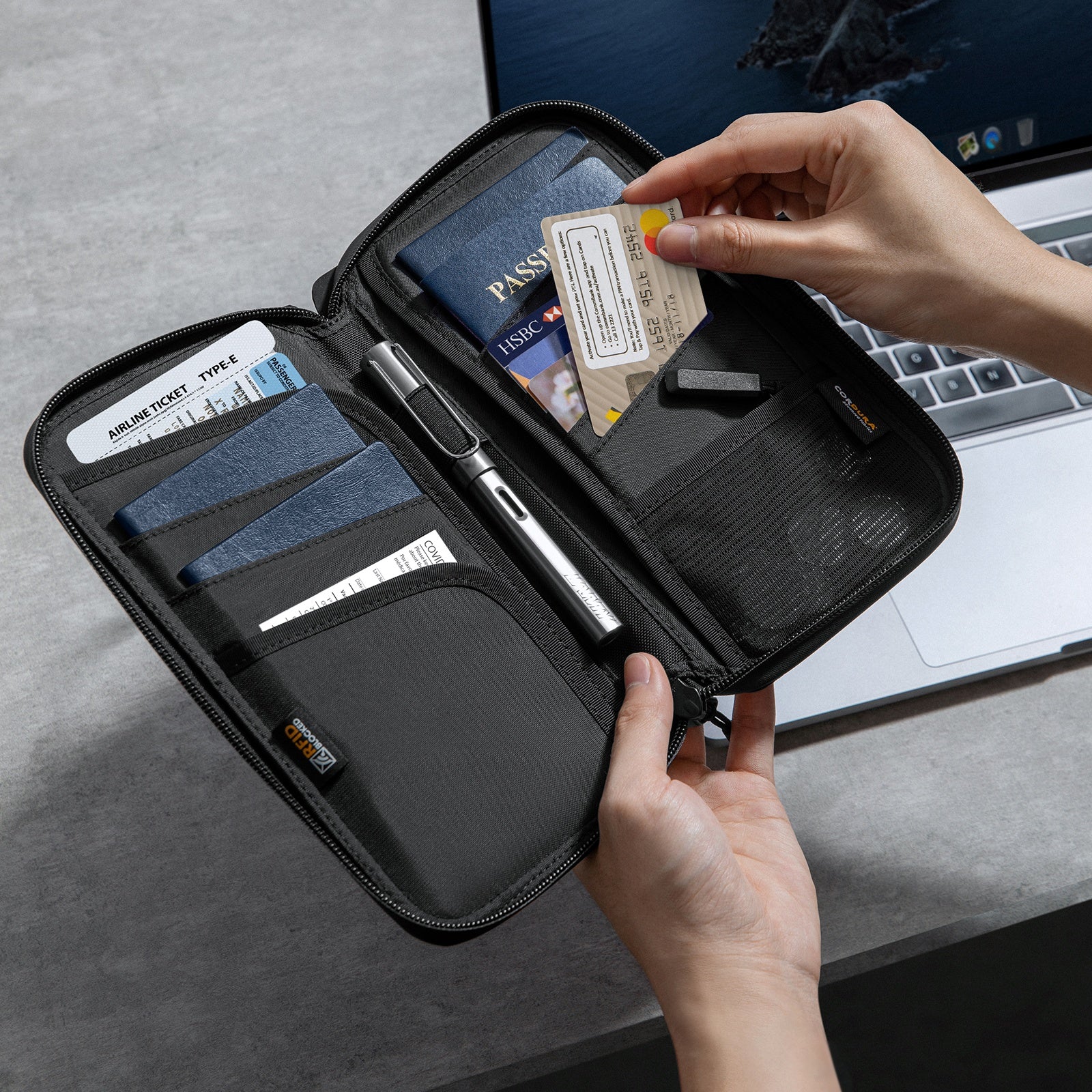 Navigator-T03 Passport Bag
tomtoc Navigator-T03 Passport Holder
RFID Blocking

Holds Up 4-6 Passports/ Credit Card

Minimalist & Texture

Great for Business/ Family Trips
RFID Blocking
The tomtoc H01 family passport wallet is equipped with the most advanced RFID-blocking technology. It can block RFID signals from cards working at a frequency of 13.56MHz.
This technology can effectively prevent unauthorized scanning of your card by thieves, thereby protecting your personal and financial information.
Well Organized
Holds up to 6 passports (4 designed passport slots + 2 roomy cash/document slots), 4 credit cards & travel documents. It also includes an internal travel pen holder, a Vaccine Card Holder with a hidden AirTag slot, a coin pocket with a Sim Card Holder, and an Eject Pin, Besides, A Quick Access Back Pocket for Boarding Pass/ Mobile Phone. Ideal for you to keep all your travel values organized on the fly.
Measures: 9.45" x 5.12" x 1.18"
1* Stash Slot for SIM Card
Open the stash card slot with one click, using the SIM card tray pin of the end, quickly switch the SIM card, and rest assured to store.
1* Stash AirTag Holder
Designed with 1 hidden AirTag holder to prevent lost, safer and more relieved.
Back Slip Pocket
You can place your mobile phone/boarding pass in the back slip pocket, and use it quickly & convenient.
Portable Wrist Strap
Equipped with a portable wrist strap that could make your hand free when you check-in.
Premium Material
The exterior is made of Cordura Nylon. Incredibly sturdy, lightweight, and water-resistant with heavy-duty durability.
Waterproof Zipper
The waterproof coating can effectively prevent the penetration of rainwater and protect the safety of the internal bills/passport.
At present, tomtoc official store only supports shipment to the U.S.We have not opened logistics channels in other countries. We are committed to enabling customers in more countries to experience our products. Stay tuned!
Ship Out Time:
24-72 hours
Delivery Time:
Free Delivery: 3-7 days
Standard Delivery: 3-5 business days
Urgent Delivery: 1-2 business days
NOTE:
*Shipping times may vary depending on the item.
*Due to the coronavirus situation, delivery times may be delayed by 1-7 days in certain areas.
*For further information, please visit our shipping policy page
30-DAY RETURN
Should you purchase or receive a non-customized item directly from tomtoc.com, it is eligible for return within 30 days from the date of purchase. Kindly ensure that the item is in impeccable condition for resale.
Please note:
*For more details, kindly refer to our our Return & Exchange Page